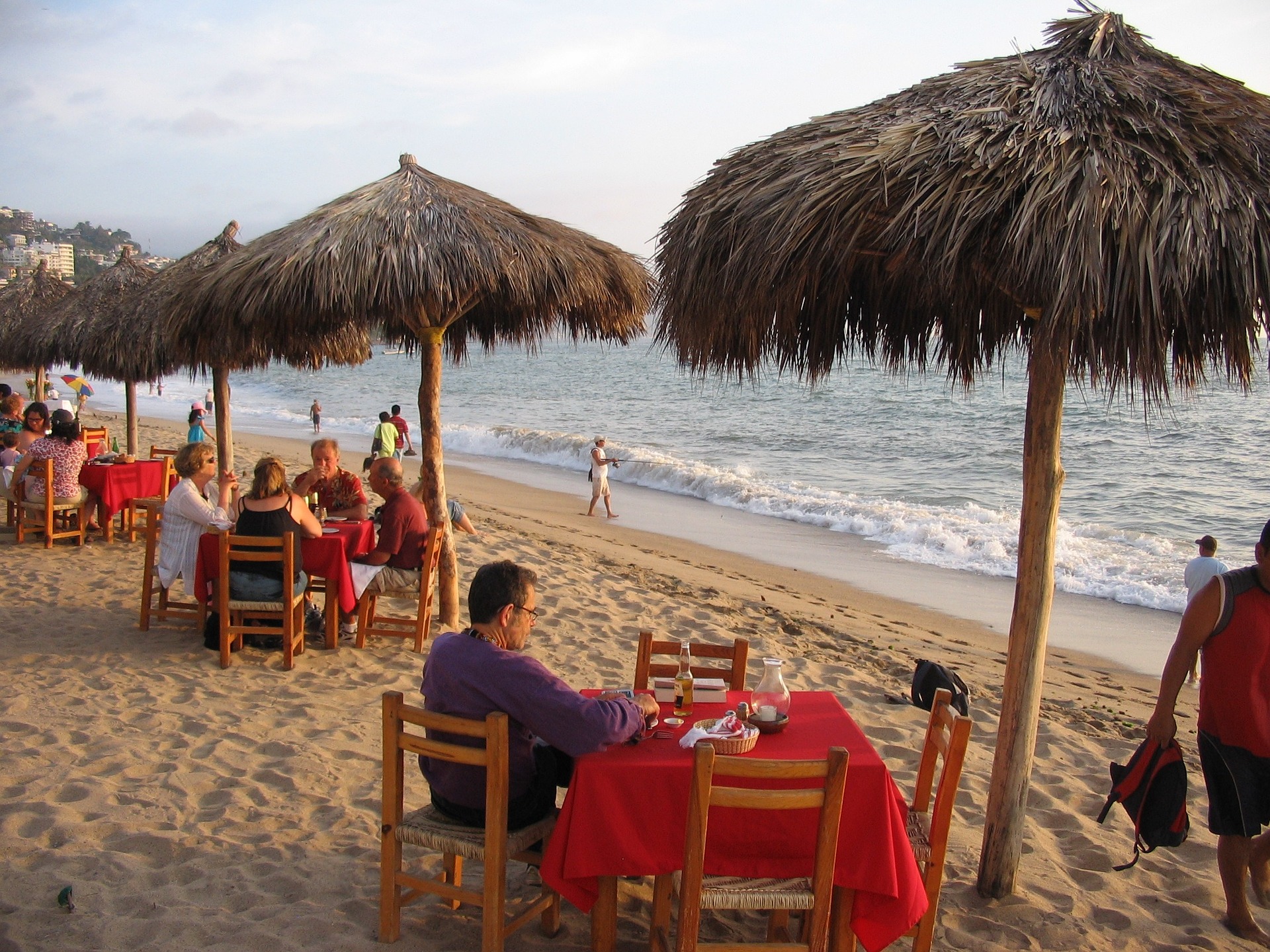 How much can I claim for being ill on holiday?
If you're considering making a holiday illness claim, then you will want some indication of the amount of compensation you will be entitled to.
In a successful claim, the damages you receive will be dependent upon the individual circumstances around your illness and the associated losses arising from it.
The best way to get an initial assessment of your claim is to get in touch with our expert team.  We're proud to have successfully represented clients in compensation claims arising from holiday illnesses such as food poisoning, salmonella, E.coli, cryptosporidium, norovirus and a range of other infections caused by poor hygiene at all-inclusive holiday resorts.
Compensation for the illness itself
This element of compensation is also known as 'general damages' or 'PSLA' (Pain, Suffering and Loss of Amenity).   How much you receive in a successful claim will depend on the type, severity, effects and duration of the illness/injuries.
Your solicitor will review case law for settlements involving similar types of illness, as well as the Judicial College guideline brackets for settlements in this type of claim.
| | |
| --- | --- |
| Duration of symptoms | Typical award |
| Disabling pains for a period of a few days to a few weeks | £1,000 to £3,460 |
| Severe symptoms for a few weeks, with complete recovery within 1 or 2 years | £3,460 to £8,360 |
| Symptoms persisting over several years | £8,360 to £16,830 |
| Long lasting and severe symptoms | £16,830 to £46,040 |
Do I need to have a medical?
You will usually have a short medical consultation with a specialist expert.  Your solicitor will arrange this.  A report will be prepared which will evidence your injuries and provide an expert prognosis; from here, your solicitor can begin to assess the value of your claim.
Compensation for your losses and expenses
In a successful claim you may also look to recover any other losses or expenses that you incur as a result of your illness.
This infographic explains some of the most common 'special damages' recovered in holiday claims: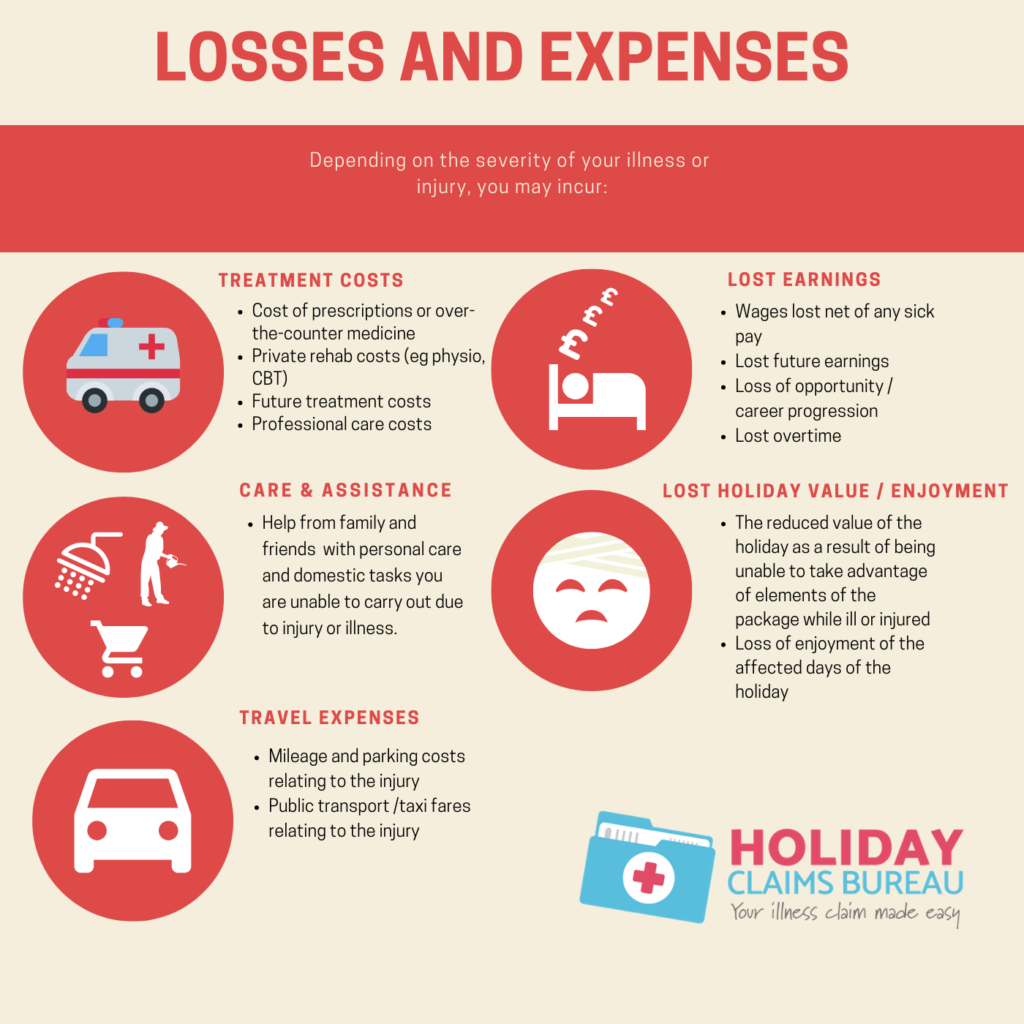 Speak to the holiday claim specialists
Some of the most common reasons why people become ill on package holidays and have grounds to make a claim include:
Food not being cooked properly
Hot food being added on cold or lukewarm food
Cross-contamination from Utensils being used for different foods
Contaminated water supplies or poorly maintained swimming pools
Foods and surfaces not being properly cleaned
Ice served in drinks prepared with unsafe tap water
Salads washed in unsafe tap water
Food contaminated by pests such as flies or birds
General poor hygiene and cleanliness around the hotel
Our solicitors have years of experience in claims against a range of tour operators, including huge firms such as TUI, Thomas Cook and Jet2. To see how much you could claim after being ill on holiday, you can call us on 0161 813 2131 or use our online form.
How it works
After filling in our simple online form the rest is easy... One of our advisors will be in touch to take any extra information needed We will assess your claims legitimacy and once approved we will begin the claim Once an agreement has been made a cash sum will be awarded to you
The Holiday Claims Bureau have helped thousands of people to receive the highest compensation payouts
We've just received our cheque in the post today. On behalf of myself and Jason, thank you so much for all your hard work and continuing support throughout our claim. We hope we won't be put in the same position again but will recommend the Holiday Claims Bureau to our Family and Friends.
Thank you so much for all your hard work and for winning our case. We'll certainly be recommending you guys to anyone we come across whose had a similar experience to us.
The Holiday Claims Bureau made it really easy to make a claim and we received our compensation in no time. Thank you very much for helping us every step of the way.
The Holiday Claims Bureau were fantastic to deal with. From the start of my claim, to me receiving my compensation, I was kept to up to date through-out the entire process, leaving me to concentrate on what matters and make a full recovery from my injury.
My claim was dealt with really well. Tracy had to fight my case after the Tour Operator denied liability. She kept me regularly informed of what was happening and her efforts helped me win compensation that I was very happy with.