In this article, the Holiday Claims Bureau holiday accident team provide advice in the event that you are affected by an accident abroad, and also how we can help if the tour operator can be held responsible for the accident.
Every year, thousands of British tourists are injured in accidents abroad. According to Foreign and Commonwealth Office (FCO) statistics published in 2013, five of the top 10 countries where British visitors were most likely to require assistance were popular package holiday destinations (namely Jamaica, Cyprus, Greece, Spain and Egypt).
Most holidaymakers sensibly take out comprehensive travel insurance before travelling.  However, a significant minority fail to do so and are faced with considerable expenses.  If you or a member of your travelling party are injured, attending to medical care for the injured person can be stressful in a different culture, and your itinerary can seemingly be thrown into turmoil.
Important advice
The priority is of course attending to the welfare of the injured person.  Seek the appropriate medical attention; if necessary, get help from any holiday representatives or staff available to direct you to the relevant medical facility.  You should also:
Contact your travel insurer as soon as possible.  Their contact details should be available on any policy confirmation document.  If cover is provided, you may be required to pay an excess.  When you receive confirmation that an excess has been paid, retain this documentation
Keep receipts or invoices for any medical treatment or medicines you have to pay for
If you have to pay for a taxi to a clinic or hospital, get a receipt for the fare if possible
If you or other members of the party are in a position to do so, make notes about what happened.  Take photographs of the accident location and anything which helps to evidence the incident
Report the accident to your Tour Representative and / or hotel staff as soon as you can.  They should complete a formal report sheet; get a copy of this and check that it is correct
Keep a copy of any doctor's reports
Obtain and keep contact details of anyone else who might have witnessed the accident.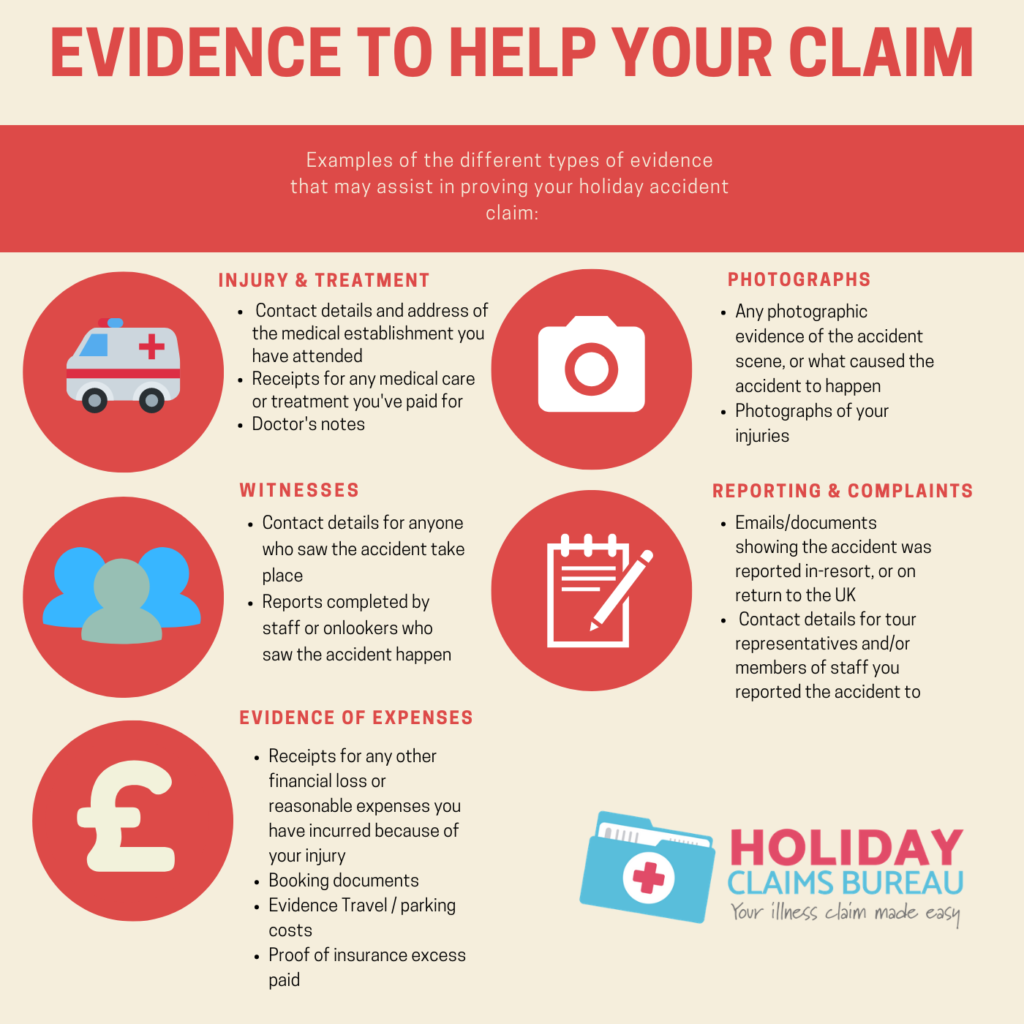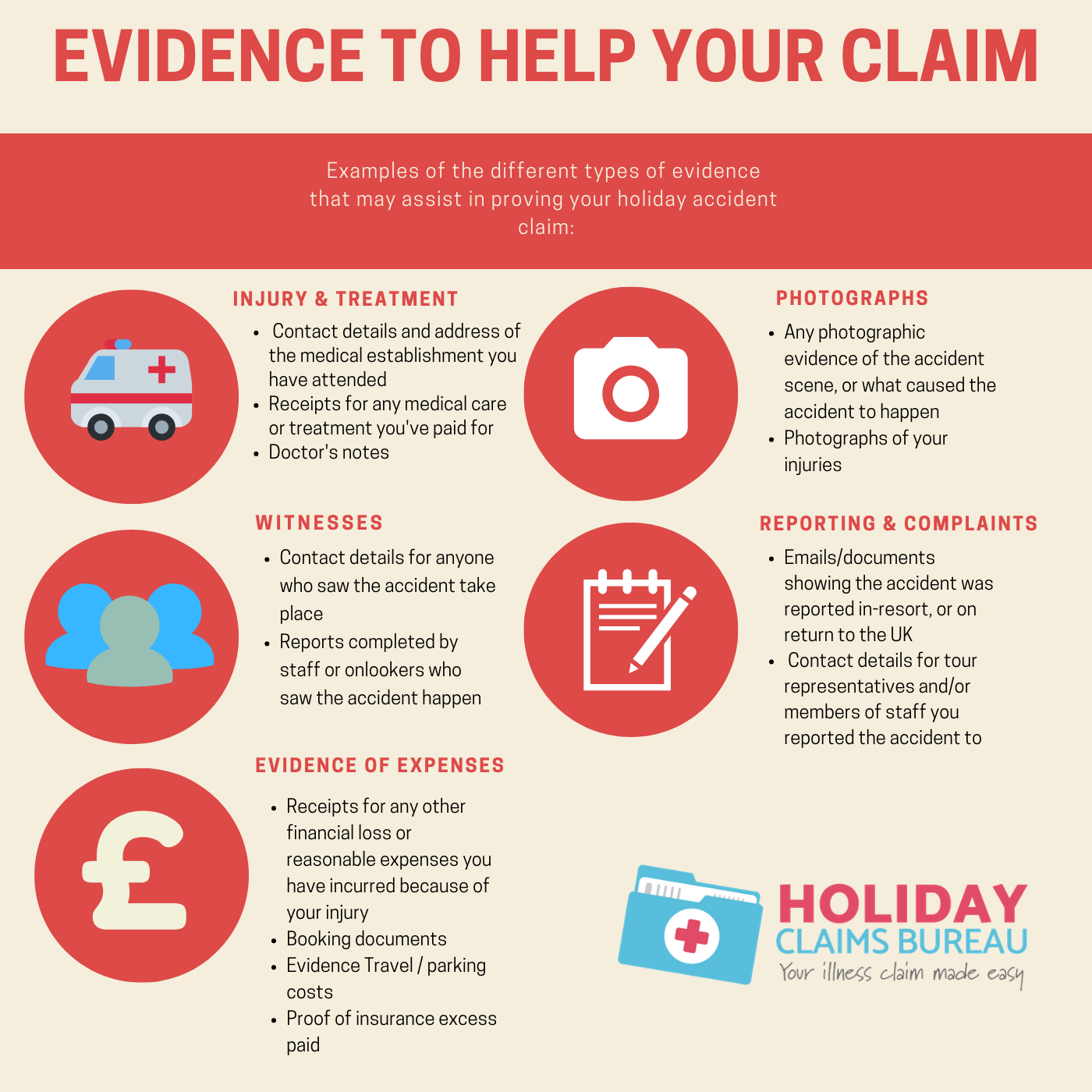 Can the Tour Operator be held responsible?
If the accident was not your fault, then you may be able to claim for your losses.  When you book a package holiday you are protected by special consumer regulations.
You will normally only be able to make a claim under the package holiday regulations if the accident happened on:
the hotel complex
the flight
an excursion or trip that was included as part of the package.  If you had an accident during a trip out of the resort that you had organised yourself, then it's unlikely that the Tour Operator could be held responsible.
Holiday Claims Bureau director and solicitor Michael Walker explains how we can help you if you have a package holiday accident abroad:
"As with any personal injury claim under UK jurisdiction, the onus is on the Claimant to prove that the Defendant was negligent, and that this negligence was the reason you sustained injury and loss.  Even if you think the tour operator hasn't fulfilled their duty of care to you in delivering the package you paid for, they might not necessarily offer you compensation.
Assistance and legal advice
Our team has a proud history of helping UK citizens injured overseas who find themselves in this predicament.  If we think your case has sufficient prospects, we know what to do to give you the best chance of a successful claim, and if appropriate, litigate on your behalf.  Even if you are unsure whether or not your claim would be covered by package holiday regulations, if an accident abroad is not your fault, I'd urge you to get in touch with the helpful and friendly team at Holiday Claims Bureau who will take you through the process."
If you, your family or friends have been affected by an accident abroad, get in touch with Holiday Claims Bureau today to see if you could make a compensation claim on a No Win, No Fee Basis.  Call on 01618 132 131 or complete our contact form.