Winter sports accident specialists
If you or a loved one have been involved in an accident while participating in a winter sport, Holiday Claims Bureau offer expert legal advice to help claim the compensation you deserve and assist you with the difficulties that can arise following a winter sports accident. Our team have helped many British travellers who have sustained injury in accidents occurring in the course of activities including:
Skiing
Snowboarding
Bobsleigh / skeleton / luge
Ice skating
Snowmobiling
Dog sledding / husky safaris
Many tour operators offer resort packages for tourists with a range of experience on the slopes, from beginners to seasoned skiers.  Varying levels of competence and insufficient preparation could of course lead to a winter sports accident.  Where injury has been caused by forseeable hazards, faulty equipment, poorly prepared or organised slopes/courses, inadequate instructions or supervision from guides, Holiday Claims Bureau can help you pursue a formal claim.
Winter sports holiday packages sometimes include scheduled activities such as lessons or guided excursions. If you were injured in a winter sports accident during an activity that was part of a package, then you could be entitled to make a claim for compensation.
Equally, if you are injured in the hotel resort off-piste, then you may also have grounds for a claim against the tour operator.
Depending on the circumstances of your accident, you may have grounds to claim against one or more of:
The tour operator
The ski resort / hotel
Another individual participating in the activity
The company organising the activity
The company that hired out or manufactured defective equipment
In many cases you will be able to pursue a claim in England and Wales.
Given the risks involved, injuries sustained in winter sports accidents could range from relatively minor sprains or soft tissue injuries to life-changing traumas such as multiple fractures and major head injuries.
What to do if you are injured in a winter sports accident
The International Ski Federation's rules of conduct stipulate that "Every skier or snowboarder and witness, whether a responsible party or not, must exchange names and ad­dress­es following an accident."  Witnesses can be vital in these matters; it's important that everyone in your party formally reports what they saw to the tour representative.
Even if you think your injury is only minor, it's important to seek medical attention and report what happened. This is not just for yourself; your account could prevent other participants coming to grief.  Make sure that you keep evidence of any expenses you incur as a result of being injured such as medical costs, fares for travel off-resort to be treated or proof of excess paid on your travel insurance.
By you or someone with you taking the following steps, you can help to prove who was responsible for the accident and also help to prevent others coming to grief:
Noting the name, contact details and insurance details of those responsible for / involved in the accident
Noting the names and contact details of any witnesses to your accident
Taking note of any personnel that helped you after the accident and obtaining a copy of any incident reports / medical notes
Taking photographs of the accident location and / or any defective equipment that might have caused your accident
How we can help
Holiday Claims Bureau's experienced specialists are familiar with the issues and arguments in winter sports accident claims; we can offer you legal support and guidance from day one, even if you're still overseas.
Call us today on 0161 813 2131 for FREE advice and to see how our expert team could help you pursue a winter sports accident Claim on a No Win, No Fee Basis.  Alternatively, use our online form.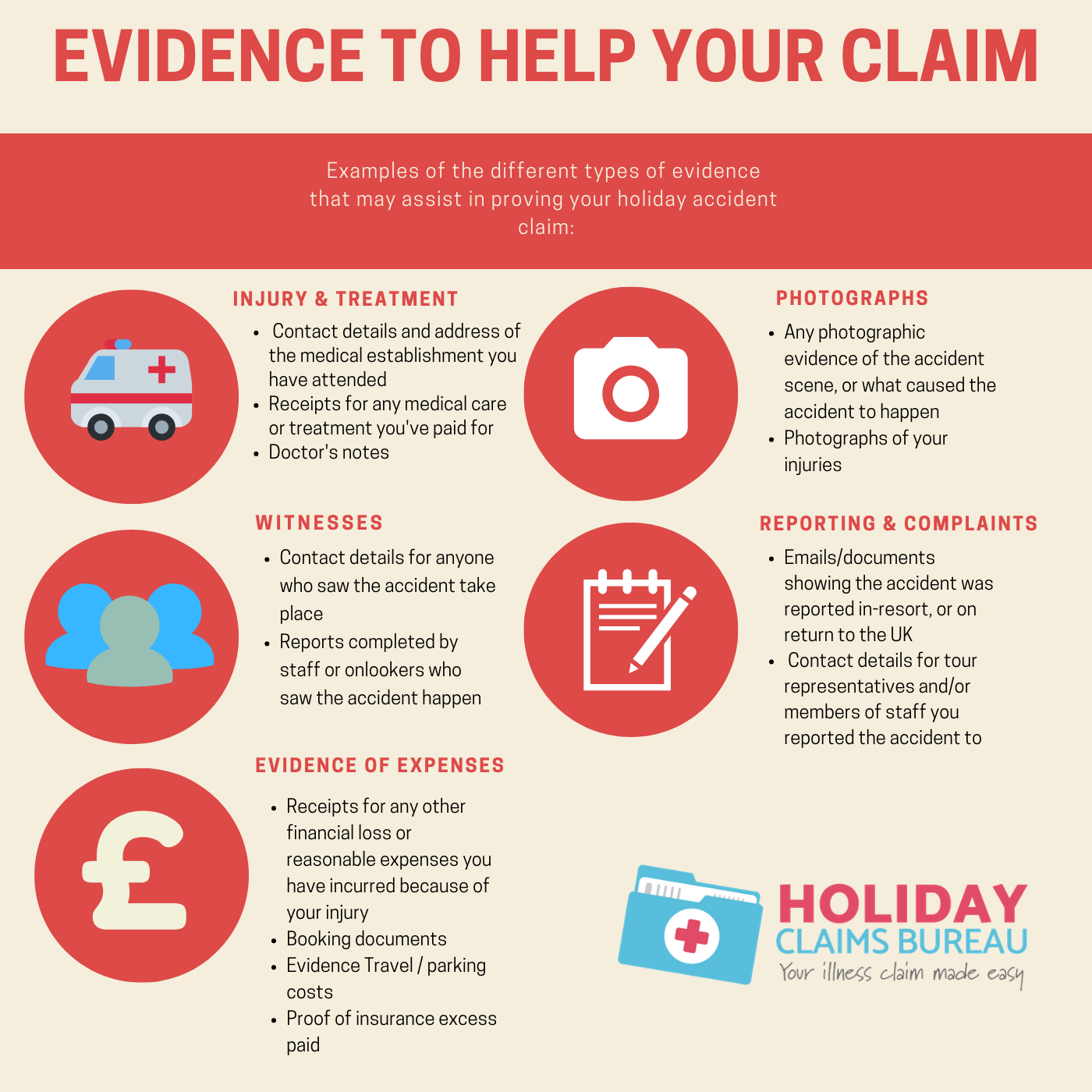 Start your holiday claim now. It's easy
Tell us about your claim
We will evaluate it
Proceed on a No Win No Fee basis
Secure yourself the MAXIMUM compensation
Start Your Claim
Our tips to help you claim
Here are a few examples of the different types of evidence your solicitor may require you to provide:
Medical evidence, for example the contact details and address of the medical establishment you have attended
Any receipts of any medical care or treatment you have received
The contact details of anyone who saw the accident take place who could act as a witness
Any photographic evidence of the accident scene, or what caused the accident to happen
Any email or documented evidence you can provide to show the accident was reported whilst in resort, or upon your return to the UK
The contact name and details of the tour operator, tour representative and/or members of staff you reported the incident to whilst on holiday, or upon your return to the UK
Any receipts for any other financial loss or reasonable expenses you have incurred because of the injuries
Make a No Win No Fee Winter Sports Accident Claim today
Our specialist team of holiday accident specialists handle thousands of pounds worth of compensation for winter sports accident claim victims every year.
Operating on a No Win No Fee basis, you can also have peace of mind and make a claim with the confidence of having the best legal representation on your side without the worry of having to pay for any hefty legal costs.
To find out how much your claim is worth, contact us today on 0161 813 2131 or start your claim online and we will be in touch with you shortly to evaluate your claim.
How it works
After filling in our simple online form the rest is easy... One of our advisors will be in touch to take any extra information needed We will assess your claims legitimacy and once approved we will begin the claim Once an agreement has been made a cash sum will be awarded to you